Crafting Distilled Spirits
Our practical book Crafting Distilled Spirits on distilling alcohol at home describes step by step how-to-make perfect spirits and fruit brandies: accordingly harvesting the fruit, preparing fruit mashes, distillation, optimal design of a still to maximize smell & taste, diluting alcohol, storage, ninety recipes for mashes, brandies, infusions and spirits like Gin, Absinthe, Ouzo etc.
If you follow the instructions of this book you will receive tasteful spirits and brandies, even with a small amount of fruit, herbs or spices. Discover the ancient art of distilling and you will find a new hobby! Our german book is since more than 17 years a bestseller and is called a standard work for hobby distiller with small stills. This book is also available in German and Czech.

English Version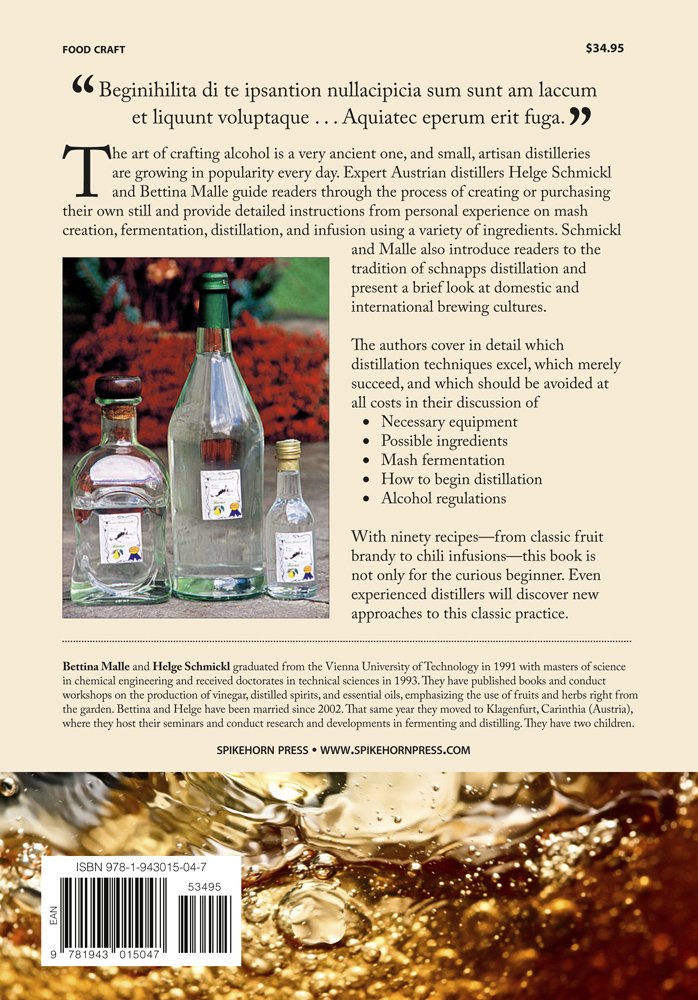 Bettina Malle, Helge Schmickl
Publisher: Spikehorn Press U.S.A.,
© 2015
150 pages, hardcover, full-color
photographs & illustrations
ISBN: 978-1-943015-04-7

German Version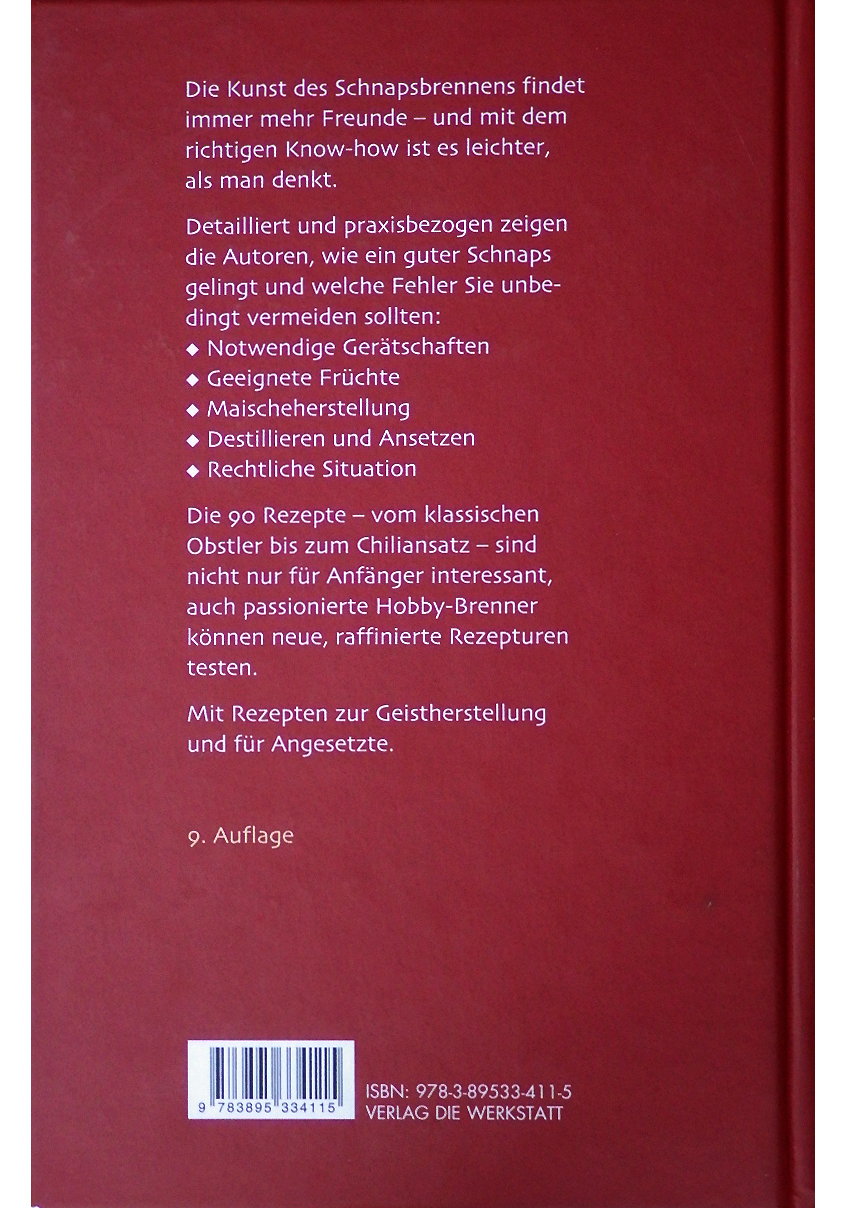 Bettina Malle, Helge Schmickl
Verlag Die Werkstatt
13. überarbeitete Auflage 2017
174 Seiten, Hardcover,
durchgehend farbig bebildert
ISBN: 978-3-89533-411-5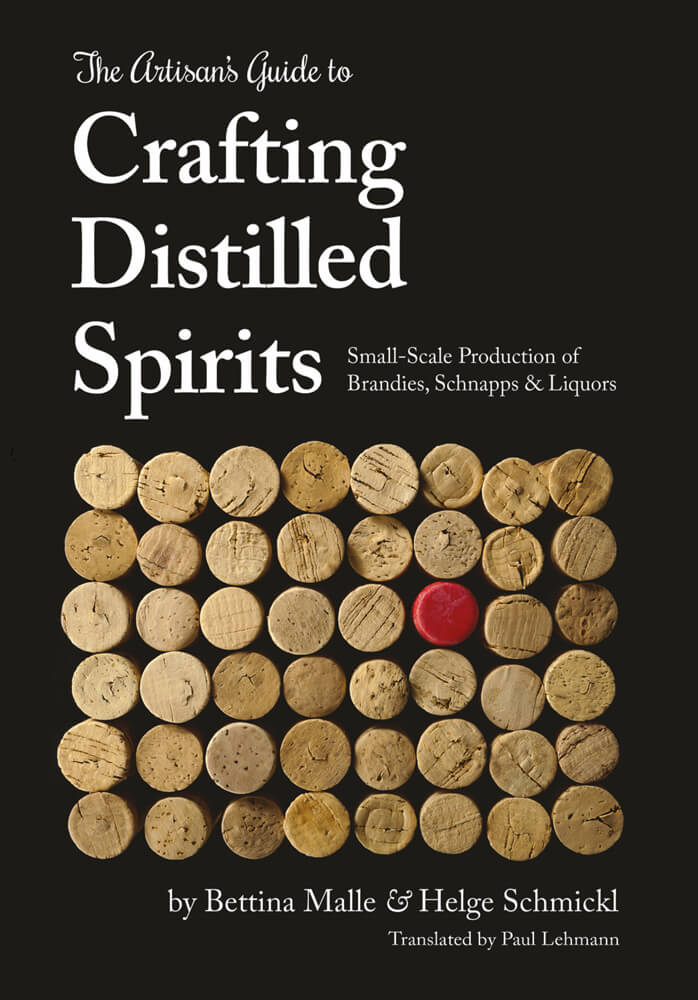 The Artisan's Guide to Crafting Distilled Spirits
If you want to know how to make essential oils at home in high quality, read our book The Essential Oil Maker's Handbook about the art of distillation :
What means essential oil?
How to make essential oils at home? How to make your own hydrosols at home? How to extract essential oil from lavender, roses,rosemary,..?
The Distillation – an explicit instruction
Producing essential oils and hydrosols by yourself – the still. How to make an essential oil still?
Separating the essential oil from the hydrosol
A lot of recipes to distill essential oils and hydrosols and for their application – What are the uses of essential oils? What is hydrosol water used for?
Harvesting and preparing the plant
To get essential oils and strong hydrolates, you have to harvest the plant at the perfect point of time and to prepare the cropped plant for the distillation. The qualitity of the plant, the point of time of the harvest and the preparation of the plant are the basis for a successful oil distillation. From wrong cropped plants and false crushed material you would never get essential oil with high quality or amount. In the book you find an detailed description and a lot of recipes for the distillation of essential oils and hydrosols.
The Distillation
In the book you obtain exlicit instructions about the essential oil and hydrosol distillation: How much watershould you fill in the still? How much plant material should you put into the still in proportion to the water? What about the distilling speed? Which collecting vessel do you need? Further answers you find also in our Workshop-Courses and online-Classes.
How to make essential oils at home – the Still
What is the best construction of an essential oil water steam still for technical reasons? What is the still Leonardo? Which material can you use? How can I build my own still or how can I identify a functioning still? Equal if you want to counstruct your own still or if you want to buy one, here you will get the essential Know-How, to receive your perfect water-steam-still for your own essential oils and hydrosols.
Separating the essential oil
Exact description of the separating procedure: When can you separate the oil from the hydrosol? Which equipment do you need? Where and how long can you store the essential oils and hydrosols?
Recipes
A lot of recipes for homemade essential oils and hydrosols (rose, lavender, rosemary, …) as soon as exact specifications in the prescriptions for Creams, Soaps, Perfumes, Antiperspirants,…. So you are able to produce the different items at home by yourself.
INHALTSVERZEICHNIS:
Preface to the English-Language Edition
Preface to the First Edition
The Foundations and Traditions of Distilling
Schnapps, spirituous beverages, distillates
Mashes

HOW IS ALCOHOL FORMED?
A side trip into chemistry
The fermentation process: Water & sugar; Flavors & aromas; Vitamins, trace elements; Solid, ligneous components
WHICH FRUITS CAN BE USED TO MAKE THE MASH?
PREPARING THE FRUIT
FERMENTATION CONTAINER
ADDING WATER
CONVENTIONAL MASHES
Fruit pulp without additional ingredients: Simple mashes
Adding cultured yeast: Mashes with cultured yeast
Checking the pH value: Measuring the pH value, Correcting the pH value
Pectinase
ALCOHOL CONTENT OF CONVENTIONAL MASHES
HIGH-GRADE MASHES WITH ADDED SUGAR
What are the advantages of a high-grade mash?, Turbo yeast, Preparing a high-grade mash
CHECKING THE PROGRESS OF THE FERMENTATION
What should you check, and how often?, Daily check, Regular stirring, Weekly measurements, Fermentation logs, When is the fermentation complete?, The optimal time for distilling
PROBLEMS DURING FERMENTATION
No alcohol has formed in the mash yet, Alcohol has already formed in the mash
FILTERING THE MASH
STORING THE MASH
MAKING A MASH FROM GRAINS, CORN, OR POTATOES (STARCHY PRODUCTS)

Stills

PRINCIPLES OF CONSTRUCTION
SOME KEY POINTS
Materials; Kettle; Heating and jacketed kettles; Column, lyne arm, and measuring the temperature; Cooling
DIFFERENT TYPES OF STILLS
Pot stills, Reflux stills, Combination stills, Large stills (pot still and reflux)
USING THE STILL
Filling; Receiver, container for the distillate; Emptying and cleaning

Distilling

INTRODUCTION
HEADS
HEARTS
TAILS
DISTILLING PROCESS
Relative proportions of the three parts
ANTIFOAM
SINGLE OR DOUBLE DISTILLATION?
Calculating the amount when mixing a low-percentage alcohol with a high-percentage alcohol
DILUTING TO A DRINKABLE STRENGTH
Determining the alcohol content, Calculating the amount of water needed for dilution, Cloudiness
TREATMENT WITH ACTIVATED CARBON, TASTE-NEUTRAL ALCOHOL
STORAGE

Mash Recipes

EXCELLENT MASH, EXCELLENT SCHNAPPS
RECIPES
Agave (mescal, tequila), Apples (obstler, cider, calvados), Apricots, Bananas, Beer brandy (bierbrand), Blackberries, Bullaces (Kriechenbrand), Chequers, Cherries, Currants (red and black), Damsons, Elderberries, Elderflowers, Gentian, Grains (whiskey), Grapes (cognac, wine brandy), Grapes (grappa, pomace brandy), Jerusalem artichokes, Juniper berries (Borovička), Mangos, Maple syrup, Mead, Medlars, Nectarines, Nuts, Peaches, Pears, Pineapples, Plums (vieille prune), Potatoes (vodka), Prune plum (slivovitz, Zwetschenbrand), Quinces, Raspberries, Rhubarb, Rice (sake), Rose hips, Rowanberries (Vogelbeerbrand), Sloes, Strawberries, Sugarcane (rum), Sweet potatoes
FRUIT WINE
Filtering the mash, Pressing the solid components, Extracting the fruit wine, Storage

Infusions

MATERIALS
Recipe for tasteless alcohol, Infusions – preparation
RECIPES
Absinthe, Blackberries, Blueberries, Cherries, Chili peppers, Coffee, Currants (red and black), Elderflowers, Gentian, Hazelnuts, Herbs, Hops, Lemons, Limes, Morels, Mushrooms, Nuts, Oranges, Raspberries, Rose hips, Sloes, Snowy mespilus (or juneberry), Spruce shoots, Strawberries, Swiss pine (Zirbengeist), Wormwood (absinthe, "the green fairy")

Spirits

THE PRINCIPLES OF SPIRIT PRODUCTION
BASE MATERIALS
RECIPES
Absinthe, Anise (ouzo, raki, Pernod, sambuca), Apples, Aquavit, Bananas, Barberries, Caraway (aquavit), Cherries, Christmas spirit, Cinnamon, Cloves, Cocoa (chocolate), Coffee, Elderflowers, Fennel, Gentian, Ginger, Grains, Hazelnuts, Herbs, Juniper berries (jenever, gin), Lemons, Lemongrass, Limes (daiquiri, mojito), Mint (peppermint), Nutmeg, Orange (Cointreau), Ramson, Raspberries, Rue (grappa di rutta), Spruce shoots, Swiss pine, Wormwood (Swiss absinthe)
COMPARISON OF THE THREE DISTILLATION METHODS PRESENTED IN THIS BOOK

Essential Oils
Drinking Culture

BOTTLING AND LABELING
Glass bottles; Cork stoppers, metal screw tops; Heatshrinkable caps; Labels
CHECKING THE TASTE AND QUALITY
OTHER COUNTRIES, OTHER CUSTOMS

Legal Situation
Germany, Austria, Switzerland, Spirit productions and distilling infusions, The United States
Frequently Asked Questions
Harvest Calendar
Afterword
Index
Link kopieren
Zum kopieren alles markieren und CMD+C (Strg+C) drücken.