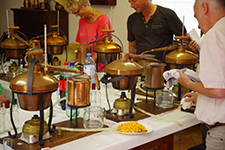 Learn in our moonshine distilling Online Course and workshop distilling classes how to make moonshine – the distillation of outstanding spirits and fruit brandies – learn how to distill easily top-quality alcohol at home (short instructions for distilled spirits). The courses cover correct harvest, how to make the mash, distillation of alcohol, construction and design of an homemade still, plenty of moonshine recipes for mashes, infusions, and spirits as well as bottling your distilled alcohol. Current developments and new features you can find in our free Newsletter.
Online Course – How to Make Moonshine
In these practical distilling classes you learn all steps on the basis of pictures, videos, descriptions, and charts. Watch our point-of-view videos to see every single processing step in detail. You study the moonshine online course at your own speed, completed by a test.
The online distilling alcohol classes can be followed from anywhere at any time.
You learn all topics concerning distilling alcohol at home: How to prepare the fruit? Which type of drums / barrels are usable? How to prepare the mash? Which problems can occur and how to prevent them? How can you construct an alcohol still? How to perform an alcohol distillation in detail? How to dilute (free alcohol dilution calculator) and store the spirits.
You will find also a comprehensive collection of moonshine recipes and recipes for infusions and spirits.
Moonshine Distilling Classes – Workshop
In the distilling alcohol workshop you learn in one and a half days all secrets of home distilling. On the first day of the moonshine distillation classes you learn all about the theory of how to make moonshine at home. The hands-on training is carried out on the whole second day: in the distilling alcohol workshop you distill independently alcohol by yourself with a provided copper pot still. Afterwards you measure the alcohol content of your own distilled spirits and dilute the moonshiners. The workshop takes place in Klagenfurt, Carinthia (Austria).
In the distilling alcohol workshop you perform all steps by your own – from the distillation to diluting and bottling the spirits.

In the practical distilling classes you distill the whole day the following products:

distilling spirits (e.g., how to make gin, absinthe, fruity alcohol, cointreau)
distilling fruit wine
distilling a mash
distilling fruit infusions
distilling herbal infusions
seasonal specialties

The distilling courses are suitable for beginners as well as for advanced distillers.