Distilling Alcohol at Home – Calculations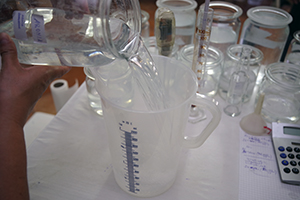 If you know how to make moonshine would like to make distilled spirits by yourself, calculations for distilling alcohol at home are often necessary, such as for diluting the distillate after distilling. Here you will find the most essential calculations you need to produce at home. All calculations are to be used free of charge and without registration, you can use the appropriate calculators as often as you like.
If you are looking for more detailed information about distilling schnapps, then you should look no further than our practice book on home distilling. Or visit the distilling online course and our hands-on distillation classes. In our eBook "How do you make moonshine?" you will find basic instructions on how to distill moonshine, which will enable you to start mashing and distilling immediately. We also have an eBook with moonshine recipes, this extensive collection was compiled by us over many years also in the context of our seminars on how to distill alcohol yourself.